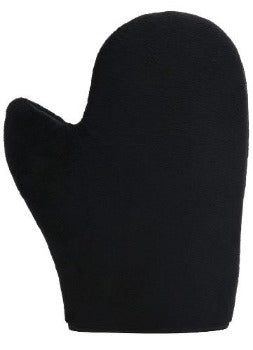 Premium Tanning Mitt
MUST HAVE FOR STREAK FREE TANNING: Best quality self tanning applicator gives professional self tanning results with a smooth, easy, streak free sunless tan application every time. Use with Miami Gorgeous Self Tanning Mousse. 

TOP QUALITY: Velour tanning mitt is higher quality then others on the market. Self tanner applicator mitts prevents self tanning products from soaking thru to your hand, so no stained palms. Super soft material evenly distributes your favorite self tanner for a streak free tan. Made with the highest quality construction so it is superier to the other sunless tan mitts on the market in durability and use.

PROFESIONAL TANNING APPLICATION: Pairing this mitt with sunless tanners will ensure a airbused spray tan look. Also, great for applyingoils or as a body lotion applications.

DOUBLE SIDED WITH BUILT-IN LINER: Tanner mitt is double sided so you can use on either hand. The thumb area gives you extra control for sculpting for contouring and facial applications. It does not slip off of your hand like straight do. The plastic liner protects your hands during application so they will remain stain free.